The summer season is coming to a close, but it's not too late to enjoy the warm, sunny weather before autumn settles in. Browse this list of the best late-summer activities in Charlottesville and Albemarle County, and be sure to book your calendars for one last summer hoorah!
River Cruises
What better way to cool down than by spending time on the water?
The Rivanna River begins about six miles northeast of Charlottesville and flows another thirty-six miles before it joins the James. With the Rivanna River Company, visitors can enjoy the river's wildlife and embark on kayak, canoe, stand-up paddleboard, and tubing trips just 5 minutes from Charlottesville's Downtown Mall.
The James River begins in the Appalachian Mountains and flows 348 miles to the Chesapeake Bay. From adventurous trips down the river by kayak and raft to more relaxing trips via tube and canoe, both James River Runners and Reeling and Rafting offer equipment rentals and guides. 
Chris Green Lake Park in Charlottesville offers 3 miles of trails, tables and grills, and opportunities for swimming, fishing and boating. (It has a dog park, which means your furry friend can join in on the fun, too!)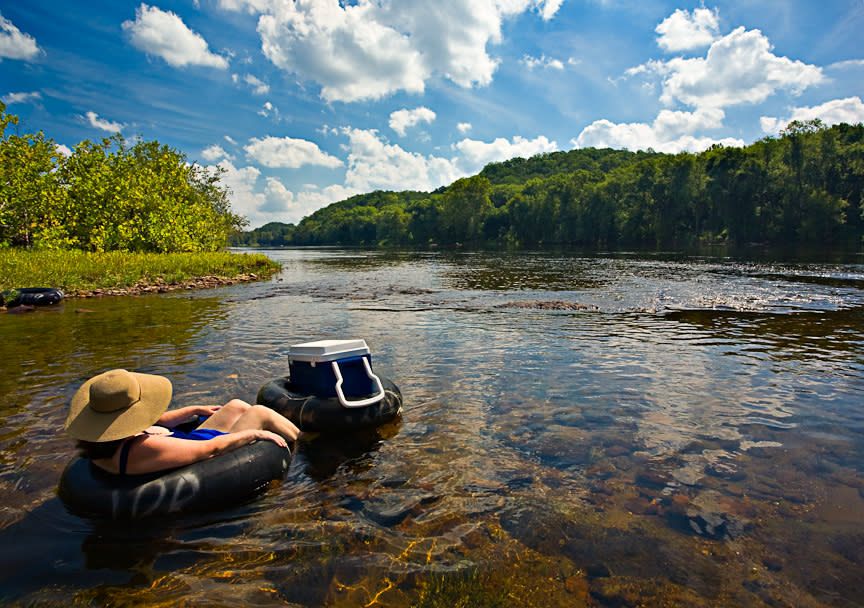 Outdoor Concerts
Unwind with a glass of wine at Keswick Vineyards, which hosts live music every Wednesday and Saturday through October. 
Enjoy concerts on a grassy hill at The Garage, an eclectic multi-use gem that serves the community as an art space, concert venue, amateur film theater, impromptu studio and potluck dining hall.
Listen to big-name artists, like Shakey Graves or Kacey Musgraves, at the Sprint Pavilion. Or, support local groups like the Charlottesville Municipal Band, one of the nation's oldest, continuously operating, volunteer community bands, at Fridays After Five.
And don't miss the last month of Thursday Evening Sunset Series concerts at Carter Mountain. The experience is what it sounds like: a concert on Thursday Evening punctuated by a sunset. These are very popular events, and for good reason. The view of the sun setting behind the Appalachian mountains as shadows lengthen over the City of Charlottesville is stunning.

Labor Day Festivities
Celebrate Labor Day by enjoying craft beer and stunning views of the Appalachian Mountains. 
Sporting Events
We all know the University of Virginia has an excellent athletic program, but college sports aren't the only spectator events around town. 
Cheer on your favorite horse at the Foxfield Races. On Sept. 29, Foxfield is hosting its bi-annual Family Day, so bring your family to celebrate the end of summer together. 
Sip on a glass of wine and sprawl out on a blanket fieldside to watch a traditional polo match at Roseland Farm on the King Family Vineyards. Polo matches are held each Sunday at 1 p.m. from Memorial Day weekend to early October.
From embarking on a riveting kayaking trip to peacefully watching the sunset with a delicious beverage in hand, summer in Charlottesville has something for everyone. Before the weather starts to cool off, make another lasting summer memory with family and friends.