As of this writing, summer may not have "officially" arrived, but for those living in central Virginia, we all know that's merely a technicality. Speaking of technicalities, as a meteorologist I can tell you that summer doesn't officially arrive until the sun is directly overhead at the Tropic of Cancer. For those of you keeping track, the Tropic of Cancer is the imaginary line circling the globe, situated at the latitude of 23.5° north. The magical moment when the sun is directly overhead at this sacred summer spot is Sunday, June 21, 2015 at 12:38 p.m. Eastern Daylight Time. But let's not get bogged down in this simply scintillating summertime minutia, but instead focus on how we can attempt to chip away at the heat and humidity that have already made their presence known here in Charlottesville and Albemarle County for the past few weeks. Let's spend a lazy day exploring the gorgeous countryside right here in our own backyards. A gorgeous countryside that is conveniently sprinkled with a plethora of wineries, breweries, and cideries - all of which are guaranteed to offer a momentary respite from the summer heat and humidity that we are accustomed to during the sweltering summer months. Let's spend a day sipping in central Virginia!
Your options begin in the city of Charlottesville! For those who prefer sipping suds to sipping wine, there are several breweries located right here within the city limits. You can sample the uniquely hoppy "40 Mile" IPA or the "Jack's Java" Espresso Stout at Three Notch'd Brewing Company, just a few minutes from downtown Charlottesville. Also, a short stroll from downtown, on West Main Street, C'ville-ian Brewing Company is where you could find yourself sipping on some unique carbonated creation. Ever tried a "J.P. Ale" from South Street Brewery, located just blocks from the pedestrian mall? Charlottesville's Champion Brewing Company also offers their own take on craft beer concoctions and for folks in the Crozet area, there's the ever-popular Starr Hill Brewery, where you can sample beers such as "Northern Lights" IPA and "The Love" German Hefeweizen. But if beer isn't your leisure beverage of choice, there are other options for your day of sipping in central Virginia.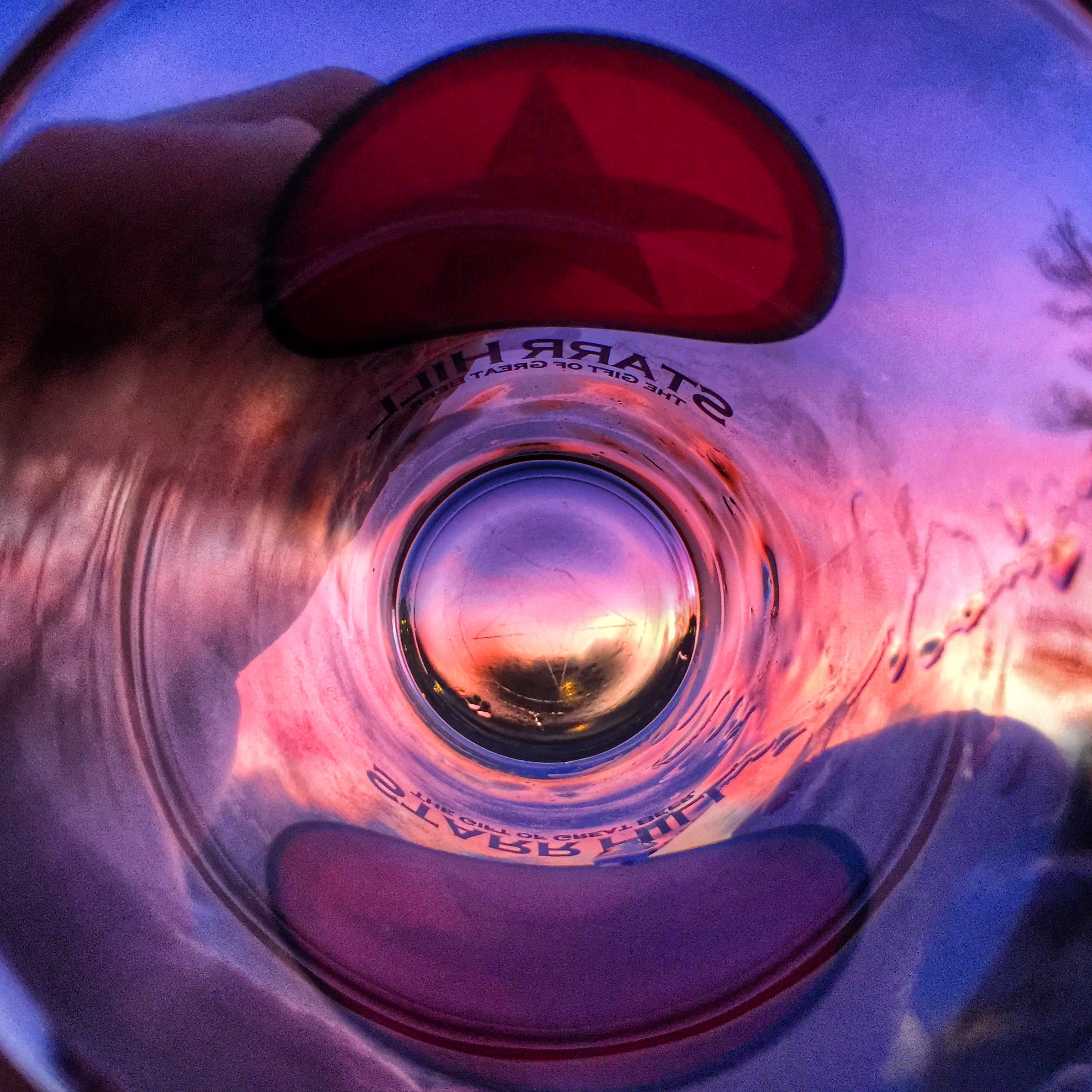 A scenic drive south of Charlottesville on Route 20 will take you into the heart of Albemarle County wine country. Lush, vibrant vineyards teeming with succulent grapes will begin to dot the landscape, as the road twists and turns eventually leading you to Trump Winery. Here you can sample and sip on the latest whites, reds, and even sparkling wines. Located just a hop, skip, and a jump away, you'll find Blenheim Vineyards. Not only can you sip on some of their fine Chardonnay, but you can do so in the building designed and owned by none other than Dave Matthews of the Dave Matthews Band! So if your day of sipping in central Virginia takes you here, keep your eyes peeled, because you never know when Dave might just show up! Also located south of the city, you'll find the rustic and charming Pippin Hill Farm & Vineyards. While you're there, get ready to take in views that will rival the splendor of the wine you will sip from your glass.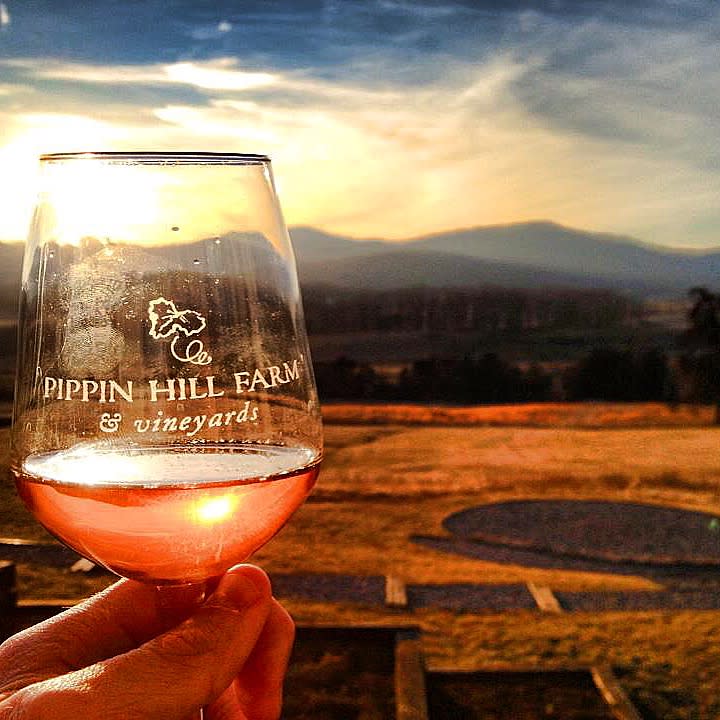 A quick jaunt east of Charlottesville will take you through more rolling countryside and the picturesque site of Keswick Vineyards. Sip and soak in the view of the vineyards, or the pond out front that is often adorned with graceful swans skimming the surface of the water, attempting to stay cool in the hot, summer sun. Perhaps you find yourself traveling the roads heading westbound away from Charlottesville into western Albemarle County. As you zip away from the city, the majestic mountains will appear in the distance, as more vineyards beckon on your day of sipping in central Virginia. Stop by and discover the tranquil pace at Pollak Vineyards while you sip on a Viognier and enjoy a picnic lunch. Not too far away, near Crozet, you could find yourself at the breathtakingly gorgeous King Family Vineyards. While you're there, you could sip on their ever-popular "Crosé" wine. The name of this wine is a clever play on words, combining "rosé" and "Crozet," the small community located a few short miles from King Family Vineyards. If you happen to find yourself at King Family Vineyards on a Sunday afternoon in the summer, you'll even be treated to an exciting polo match with galloping horses - right outside the tasting room!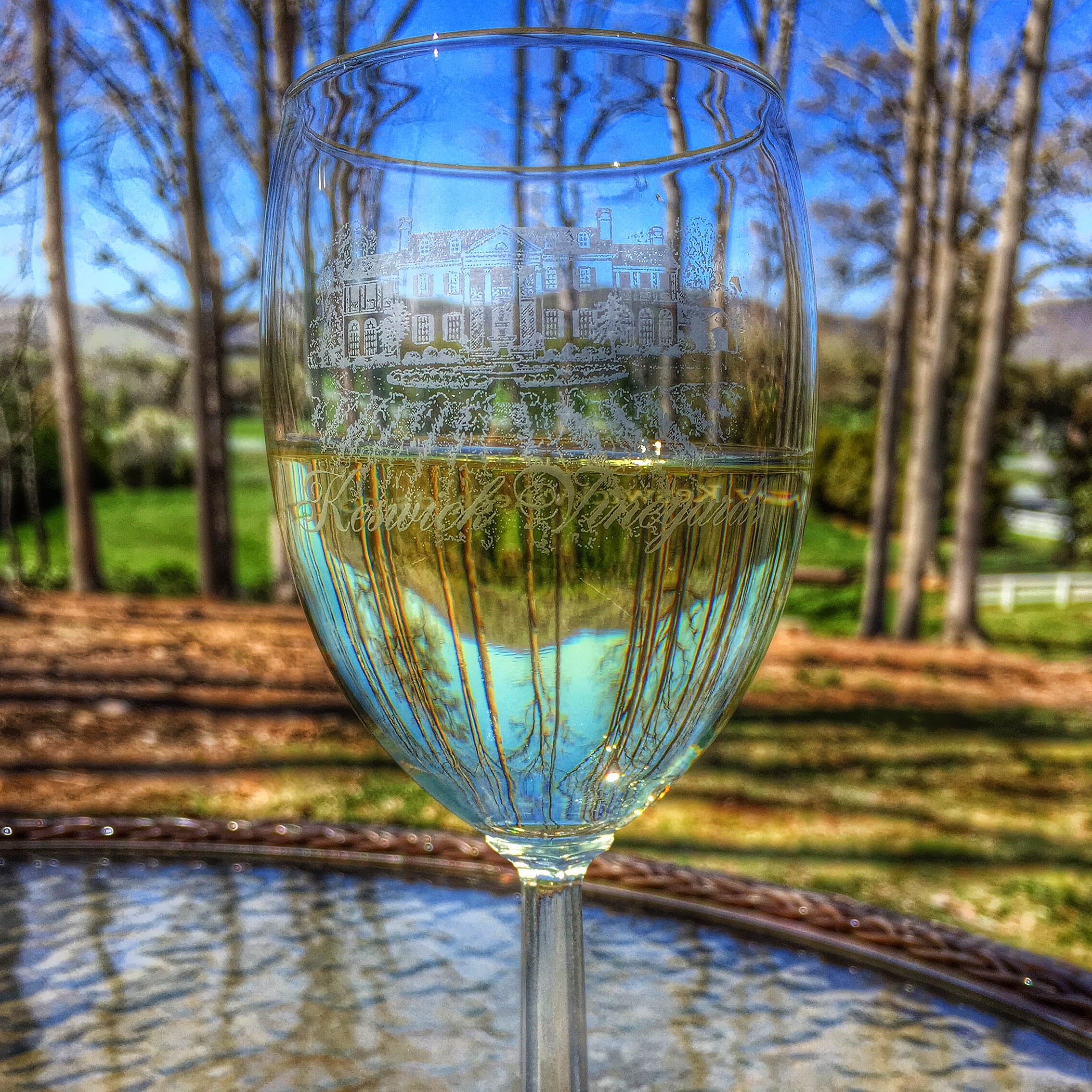 So far, our day of sipping in central Virginia has featured options for the wine connoisseurs and beer fanatics, but what if both of these options don't satisfy your sipping desires? Not to worry! There's an option that involves another central Virginia specialty just begging to be sipped. That's right, it's cider! Several cideries have blossomed here in Albemarle County, taking advantage of the bounty of apples that this region produces each and every fall. Located just a short ten-minute drive south of Charlottesville on Route 29, you'll find Albemarle CiderWorks where you can sip a cool apple cider, just as Thomas Jefferson would have done centuries ago! A trip east of Charlottesville will bring you to Castle Hill Cider, where you can pick from a variety of ciders, while gazing at the pastoral views of Albemarle County. These cool beverages are sure to help ease the sting of a hot and humid summer afternoon in central Virginia.
As the days get hotter, and the length of daylight continues to grow, don't forget about the endless possibilities for your day of sipping in central Virginia. Not only can you beat the heat, you can also learn more about several booming beverage industries located right at our doorstep. Take a drive along the Brew Ridge Trail, and explore some best breweries around or explore the Monticello Wine Trail, which is comprised of more than 30 different wineries, all just a short drive from Charlottesville! Tours and behind-the-scenes glimpses are available at many of these locations, so be sure to take advantage of those opportunities if they are offered! As if this day wasn't good enough, these wineries, breweries, and cideries are situated on some of the most gorgeous parcels of land around. So bring that camera. Pack a picnic lunch. Get ready to beat the heat and soak in all of the beauty central Virginia has to offer as you embark on your day of sipping in central Virginia. Cheers!