Wine with a view is what we do best. Welcome to the Monticello AVA, one of the top wine regions in the country. Here the Blue Ridge Mountains present unrivaled fall color. From stony peaks to the vines in the valleys it will descend: dark red, brilliant yellow, crisp orange. The first of the leaves have begun to turn, but peak fall color will arrive in just a few short weeks. October is Virginia Wine Month for a reason! Our part of Virginia is at its natural best in October, and the weather is perfect for a lazy afternoon picnicking on the lawn of a winery or enjoying a small glass of red from a rocking chair. Bring the family. Bring friends. Fall, wine and mountains are reunited once more.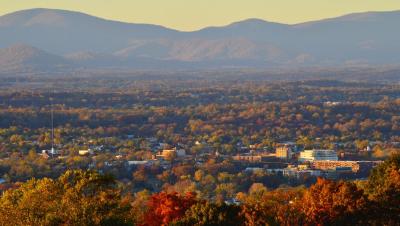 With over 35 wineries here in Albemarle County, it can be difficult to decide which to try. Below are but a few highlights. For our full list of wineries, click here. You can't go wrong with any of them! Be sure to make a reservation or call ahead in order to ensure you'll secure a table, and expect your safety to be the top priority. When you run a winery, you must adapt and evolve. Weather is a constant concern, and each day presents unique challenges. Ours were quick to adopt new safety procedures. Each winery has had several months to dial in the finer elements of the visitor experience, and boy are they ready for fall. They're at the top of their game in time for the prettiest season of all.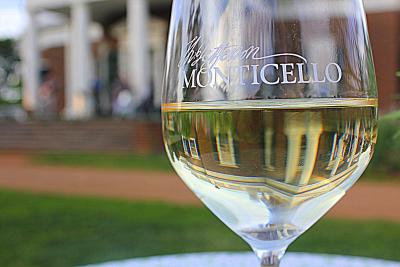 Founded by Gabriele Rausse, the father of the modern Virginia wine industry. This is one of the best places to appreciate the storied history of the Monticello AVA. The drive to and from Gabriele Rausse will take you down some of the most scenic country roads in the county.
Close to Thomas Jefferson's Monticello and James Monroe's Highland. If your goal is to enjoy a little wine in the shadow of some big, beautiful mountains, put this winery on your list.
Outdoor covered spaces open Friday - Sunday from 11am-5:30pm by reservation only. Most outdoor seating offers a sweeping view of the vineyard and the gentle rolling hills beyond. There is plenty of space to spread out and enjoy the company of your family and friends. Blenheim Vineyards is owned by local legend Dave Matthews.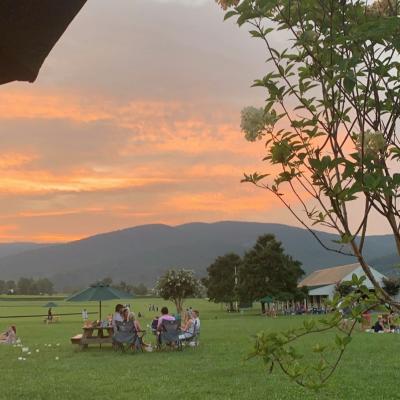 A better view you won't find.
Head out to King Family for a polo match or Wine Wednesday.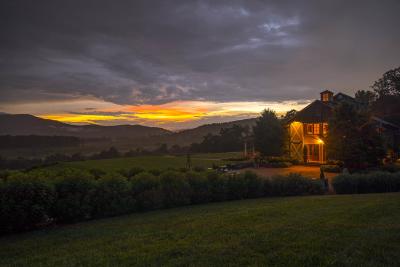 Worth a thousand words.
Walk-ins welcome. For groups of six to sixteen, it's recommended that you make a reservation. Unique to Pippin Hill is the extent of their culinary garden. Expect excellent eats.
Walk-ins welcome! Reservations recommended on the weekends. Keswick Vineyards, founded in 2000, is family owned and operated. They've won quite a few awards for their exquisite wines—the list is longer than this post!
A small, family-owned winery situated on a 98-acre farm west of Crozet. Expect Blue Ridge views in all directions. Open Wednesday through Sunday from 12-5pm for porch and patio seating by reservation only. Reservations will be given an hour and a half to enjoy the estate and wine.
Aptly named! There's a greenhouse tasting room next to their wide, still pond. Glass House is nestled right up against the Blue Ridge Mountains. Enjoy some time here and you may begin to feel as though you're situated beside a Disney castle. If you're looking for unique, look no further than Glass House. For a short preview of the tasting room and property, click here.
Fall is always a busy time of year here, but our wineries offer more than enough space for you to maintain a healthy social distance from other groups! Now that many of us are working or learning from home, mid-week trips are easier than ever before. For a better shot at a VIP experience at one of our wineries, consider arriving on a Thursday. Many of our local transportation companies have safely opened as well. They're ready to take you on a tour of our wine country if you would prefer not to navigate from place to place alone. Several of our wineries operate bed and breakfasts on-site. For a complete list of hotels in our area, click here. Standards of safety and cleanliness are extremely high across the board! We hope to see you soon.