Live performances will continue to be an integral part of our community in 2021 and beyond. We are fortunate to have as many theaters and music venues as we do here in Charlottesville and Albemarle County. Most of these theaters and venues are concentrated along the Downtown Mall. They draw diverse crowds comprised of locals and visitors for each show. It was not uncommon, for instance, to see a queue a hundred or more long outside the Jefferson Theater before the opening of the doors for a popular concert. The Sprint Pavilion, which anchors the eastern end of the Downtown Mall, is well known for its Fridays After Five concert series, a free and family-friendly weekly event that recurs each Friday after five o' clock throughout the summer months. We expect to be able to enjoy all that the arts scene has to offer later this year.
In the meantime there are still plenty of shows to enjoy! Live Arts, a volunteer theater and pillar of our community since 1990, will continue to stream a variety of performances as they have throughout the pandemic. The Paramount Theater has been hosting safe, socially-distanced screenings and keeping the community both informed and entertained with witty tweet-like displays on their iconic marquee. The Jefferson Theater has been making great use of their storied stage, treating virtual audiences to several livestreamed shows a month. Scroll to learn more about what to expect from each of these historic theaters and venues this year.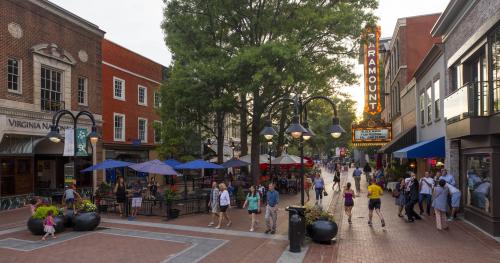 The Paramount Theater first opened in 1931 as an American movie palace. Today, the non-profit Paramount Theater is a versatile regional performing arts theater equipped with an orchestra pit, a modified fly loft, backstage areas, and a regal lobby. Click here for the latest on upcoming screenings and events! The magnificent Paramount Theater blade sign and marquee on the Downtown Mall is impossible to miss.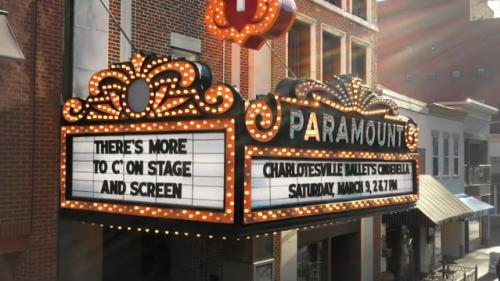 Live arts recently announced their schedule for the first half of the year! Since 1990, Live Arts has been championing music and performance art in Charlottesville and Albemarle County. Their downtown theater, from which they will stream this year's shows, will be well worth a visit once it's safe to attend in-person shows again.
The Mom Journals, set to be livestreamed January 28th-30th at 8:00pm and January 31 at 2:00pm, will be the first Live Arts show of the year! The Mom Journals, written by local playwright Courtney Jett Walker, tells the story of five mothers in different stages of motherhood. For tickets to view one of these performances from the comfort of your home, and more details about the show, click here.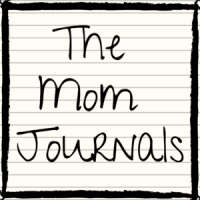 Let Go of Me, an autobiographical play written and directed by Kelley Van Dilla, will premier in late March. Let Go of Me is driven by the relationship between a mother who has bipolar disorder and her non-binary transgender child.
In spring, look forward to We Are the Ones We Have Been Waiting For, a dynamic blend of storytelling, poetry, music, and dance in celebration of unsung Black women freedom fighters!
For a preview of what an in-person show at Live Arts looks like, check out the Live Arts Nickel Tour below!
This past year the Jefferson Theater has been announcing and hosting a variety of livestreamed performances. Their popular So Now, Where Are We? series this past August featured popular Charlottesville-based acts like Kate Bollinger, Kendall Street Company, and Chamomile & Whiskey.
For an inside look at what to expect when in-person shows safely return, check out the Jefferson Theater Nickel Tour below!
The Front Porch strives to connect people through sharing, teaching and learning music. They host concerts and facilitate lessons all year long from their convenient downtown location. This past year, they've been coordinating a live-streamed concert series called Save the Music. Tune in for a show! Streams typically take places Wednesdays and Sundays at 8pm. For their most up-to-date concert schedule, click here.